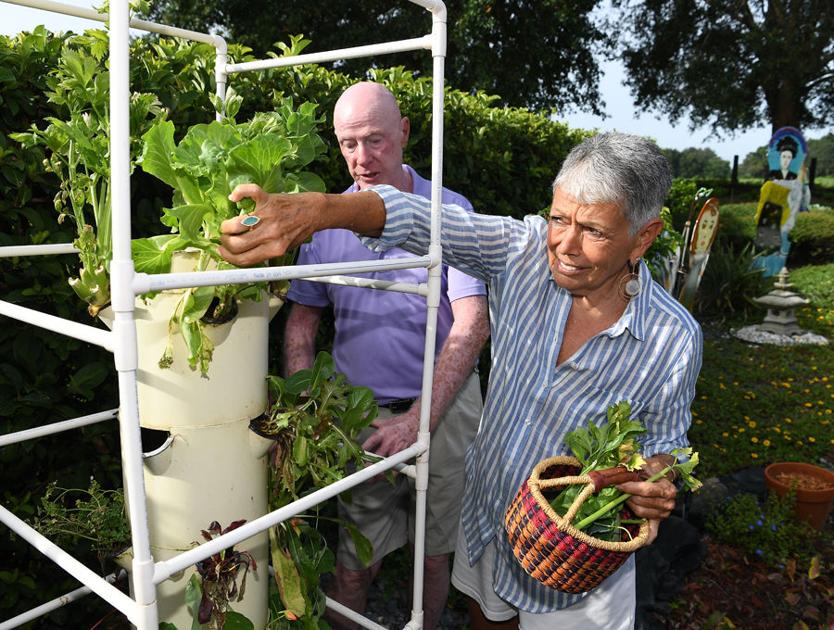 Roger Azzarello didn't taste the kick in the paprika glasses bought in the store. So he decided to do what he did in his Pennsylvania homeland and start a pepper garden. He has grown flower beds and pots of paprika and banana pepper plants on the walls of his backyard in the village of Pennecamp. "You know what you have when you grow it yourself," said Azzarello as he picked peppers to top a hoagie with. "There are no pesticides or other chemicals. And I can and freeze them; I can have them all year round. "Villagers have recently been motivated to grow their own fruit, vegetables and herbs, according to the tree nurseries in the border triangle, including sellers at the Brownwood Farmers Market.
Plants have been sold out in the past few months, as have seeds.
"I brought eight boxes of plants and brought half of a box home," said Cathy Smith, co-owner of D&C Nursery in Ocala, a saleswoman at the market.
Home gardening became a popular activity nationwide as more and more people stayed at home to prevent the spread of COVID-19. Just under 20% of all adults in the US started gardening during the pandemic, including 23% of baby boomers, according to data and analytics group YouGov.
It was the fourth most popular lockdown activity among baby boomers soon after they used social media, slept, and connected with people they normally talk to.
In the past three months, some residents have decided to plant new orchards, while others have spent time improving or adding to existing gardens.
Bonnie Rowen, a member of The Villages Landscape Garden Club, had no plans to start a garden – or even stay at home – when the pandemic began. She should be in Thailand for a wedding.
After the pandemic forced her trip to be canceled, she went out and bought some peppers and seeds for seasonal plants that grew in Florida in the spring.
"It's not a pretty garden, but it gave me something to look forward to every day," said Rowen of the village of Bridgeport on Lake Sumter.
She currently has black-eyed peas, green beans, parsley and a pepper plant in the garden. Before that, she had basil, coriander, spring onions and other pepper plants in pots on her porch.
But not every home gardener is new to it.
Bob Faucett has been growing his own lettuce greens in vertical tower gardens and a ground garden for six years. He currently grows celery, kale, Swiss chard, dandelion and various types of lettuce.
He and his wife, Carol Ann, began gardening to grow their own organic vegetables. This was part of an effort to eat cleaner and healthier.
"We like the process of picking the food, bringing it to the table, and eating it," said Faucett of Chatham Village. "Nobody treats it, sprays it or sends it from who knows where. That's a big advantage for us. "
People increasingly agree with his feeling.
Jonathan Squires, owner of Just Perfect Plants Kindergarten in Leeburg, said his business was up about 500% year over year as interest in gardening for household products increased locally, nationwide and nationwide.
There is great interest in his vegetable and herb plants as well as in peach trees, blueberry bushes and lychee trees.
"I've sold out three times since then [COVID-19 pandemic] has started, "said Squires. "I get clients from all over Lake, Sumter, and Marion. People come from Clermont because they couldn't find herbs anywhere. "
Gardening with in-house produce helps reduce the public's dependence on the typical supply chain, which includes supermarkets.
Squires believes many villagers and local residents see the trend as nostalgia for the World War II victory gardens when the people of the United States started growing their own food so the supply chain can support soldiers fighting in the war.
"It's all doable in the villages," he said. "That includes if they don't want to be a farmer but want to supplement their food supplies, they still go to Publix but feel like they can do it themselves."
Due to increased demand, Squires has increased its production of herb, tomato and pepper plants in preparation for autumn.
Senior writer Michael Salerno can be reached at 352-753-1119, ext 5369 or michael.salerno@thevillagesmedia.com.