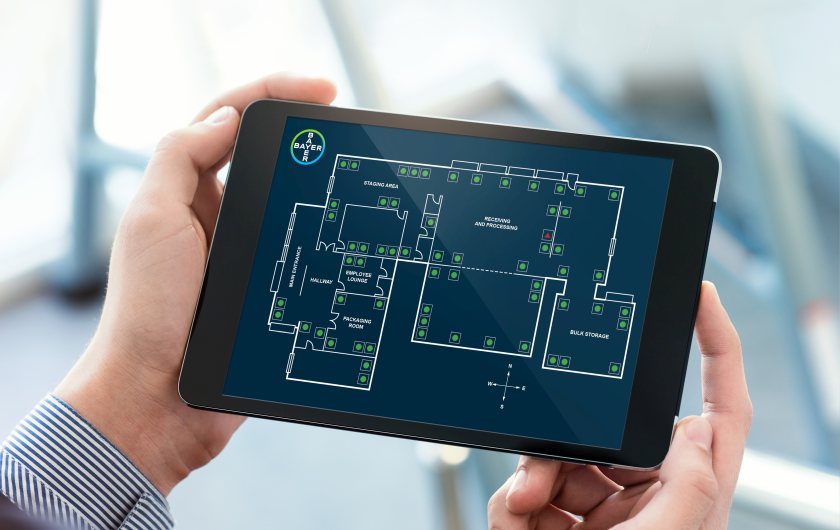 The biotech giant Bayer has worked with Microsoft to develop a digital pest control system that allows farmers to stay on rodents.
Keeping rodents under lock and key is a challenge for farmers as the storage of plants and livestock are the ideal environment for pests, providing nesting sites and an abundance of forage.
Rodents are responsible for eating and spoiling feed and damaging equipment. They also pose a major biosecurity risk to livestock and are carriers of diseases such as leptospirosis and salmonella.
Given the rate at which the infestation is growing, it is important for farmers to control rodent populations – a pair of rats and their offspring can produce 800 young in 9 months.
The latest technology from Bayer is designed to prevent these pests from gaining a foothold.
How it works
Bayer's digital system connects a number of strategically placed smart traps in one location to keep rodent numbers down and to determine where the hotspots of activity are. This can improve prevention methods.
Gary Nicholas leads the implementation of the digital pest control system for Bayer. He believes it could prove revolutionary for businesses.
"The future of pest management is using digitally collected data to make more informed pest control decisions," he said.
"This is not intended to take the pest controller out of work. We still need his knowledge to use this information to control rodent populations.
"When visiting a construction site, pest controllers don't have to waste time inspecting boxes. Instead, they already have this information to create bespoke plans."
The system uses sensors that automatically send real-time detection alerts so users know exactly when and where a mechanical trap has been triggered.
This information is forwarded to an app on the user's phone which also receives 24 hour system notifications where all data is recorded.
This data is converted into a heat map so that hotspots of rodent activity can be identified, which means more targeted prevention and control measures can be implemented.
No WLAN is required to operate the system. Instead, it uses the low-power Lorawan network, which connects to a small modem provided by Bayer.
The system uses sensors that automatically send real-time detection alerts
The sensors in the traps are battery operated and have a lifespan of approx. 4-5 years.
Current methods
Nick Palmer runs a West Yorkshire pest control company called Agripest, which specializes in providing service farms.
Mr Palmer said the high level of regulation makes it difficult to control the infestation.
"Farms are a magnet for rodents and they can be notoriously difficult to get hold of, especially on ranchers, as we are severely limited on what rodenticides we can use in the stables.
"For example, on poultry farms, we have to do an exemption between flocks once a year because keeping an eye on the infestation while the birds are in the barn is a big challenge."
Mr Palmer also stated that he is trying to avoid the use of rodenticides and that most of his work is in prevention.
"Rodenticides are a last resort. The most important thing is to study how rodents get into the construction site. Maybe there is a hedge nearby or an obvious way to get them into the buildings," he said.
The digital system is designed to give users a clearer picture of where these prevention plans should be targeted.
Services
Mr Nicholas said the main benefit of digital pest management is that it integrates fully with traditional methods.
He said, "This will work hand in hand with management that farmers and pest controllers are already doing.
"It is designed to give them the knowledge to make clearer decisions. Still use rodenticides in a mass infestation. However, this can help make these methods more targeted and effective."
The full history of the data collected by the system is kept so that an effective pest control plan can be easily demonstrated during an inspection.
Mr. Nicholas said this could really add to the professionalism of the industry: "This is equivalent to inspecting, servicing and reporting all traps, 365 days a year, 24/7.
"The app gives farmers and pest controllers an understanding of what happens when they're not there."
Knowing this means that once a trap is triggered, it can be treated, which means it will be active longer and dead rats will not have to fester in traps for long periods of time.
Problems
The use of mechanical traps helps reduce rodenticide use, thereby limiting secondary poisoning and impacts on non-target species.
While these traps have proven to be very effective in clean environments like the shopping malls where the Bayer system is already in operation, he explained that there are difficulties in using them on farms.
"There are often jams on farms. The traps will stop with the mud and debris in the agricultural environment, while vibration and disturbance can create false triggers.
"That doesn't mean they don't have space, but they do require a lot of maintenance," Palmer said.
According to Bayer's Gary Nicholas, the Bayer system aims to address these issues as best as possible.
"The sensors can tell when a rodent is in the trap, so they can tell the difference between a random and a real trigger, which means no false data is generated."
The other disadvantage of the system is the pricing, which it leaves as a real option, especially to larger manufacturers.
An annual subscription of £ 2,400 is paid to use the system, while the traps themselves can be purchased instantly.
A mousetrap costs around £ 60 while a rat trap will bring you back closer to £ 70.
Killgerm is Bayer's UK distributor and prices vary depending on the size of the purchase.